If you're looking for news on A Silent Voice 2, whether the movie will be continued, what will be the release date? Check out this article and get all your questions answered.
A Silent Voice or Koe no Katachi is that heart-warming movie that makes you tear up, live in the moment, and achieve all your dreams. The drama made us weep in sorrow and joy. The story of mistakes made in childhood, the redemption, and its hardships all made us extremely happy after watching the movie. However, it also left us with a gaping hole in our hearts that only A Silent Voice 2 can fill.
The movie was adapted from a manga of the same name by Yoshitoki Oima. The film came out in 2016 and was announced in the last chapter of the manga. However, yet there has not been any news or official announcement regarding a sequel.
A Silent Voice – Recap
The story follows the central theme of redemption. Ishida was a bully as a boy. He and his friends regularly taunted the new girl at school, who was deaf. And his actions harmed Shoko. When the school principal got news of this, he was furious and demanded to know who was responsible for this. All of his friends blamed Ishida for the bullying incidents, and soon he was ostracized and bullied by the others.
We further see him five years later, now mature and aware of the result of his actions, he is asocial and broken. He wishes to make amends and then commit suicide. But here, he chances upon Shoko after many years. Ishida now wants to talk to her, get to know more about her life. He wants to make her smile.
However, seeking redemption isn't easy. Ishida will face many challenges as he tries to get closer to the girl he used to bully. The movie shows us beautifully the struggles that he and she have to face.
I highly recommend you to watch the movie on Netflix and Amazon Prime.
Will There Be A Silent Voice Season 2?
The renewability of an anime is dependent on several factors, and these factors work collectively in influencing the chances of an anime series or movie getting a sequel.
They include source material, popularity, and sales of the franchise. We will be looking at each of these factors regarding A Silent Voice movie and analyzing the sequel's chances.
Also Read, Will There Be No Game No Life Season 2
A Silent Voice Anime Characters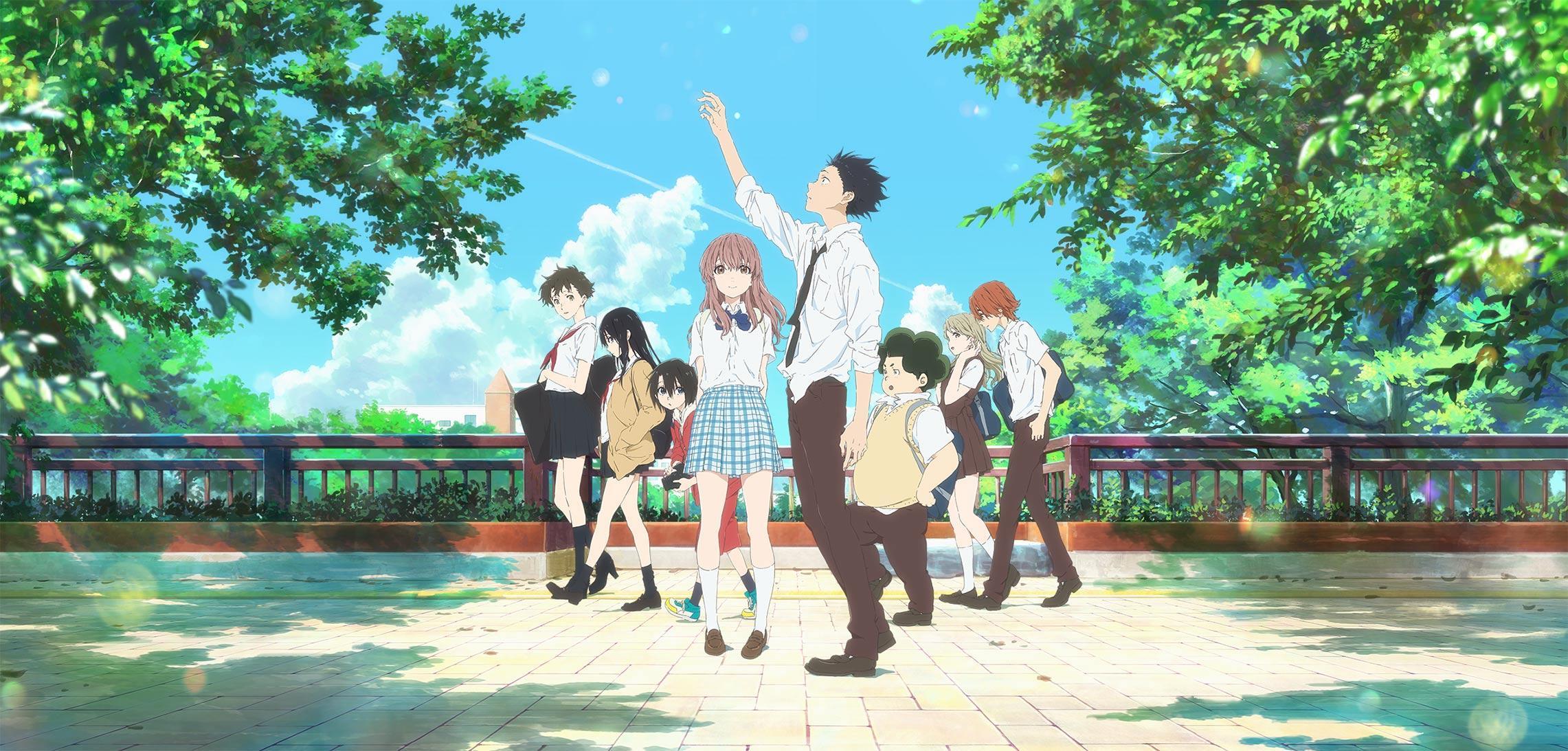 Shoya Ishida, voiced by Miyu Irino (Japanese)
Shoko Nishimiya, voiced by Saori Hayami (Japanese)
Yuzuru Nishimiya, voiced by Aoi Yūki (Japanese)
Naoka Ueno, voiced by Yūki Kaneko (Japanese)
Miyoko Sahara, voiced by Yui Ishikawa (Japanese)
Tomohiro Nagatsuka, voiced by Kenshō Ono (Japanese)
Yaeko Nishimiya, voiced by Akiko Hiramatsu (Japanese)
Miki Kawai, voiced by Megumi Han (Japanese)
Satoshi Mashiba, voiced by Toshiyuki Toyonaga (Japanese)
Keisuke Hirose, voiced by Takuya Masumoto (Japanese)
Takeuchi voiced by Fuminori Komatsu (Japanese)
Miyako Ishida, voiced by Satsuki Yukino (Japanese)
Kazuki Shimada, voiced by Ryo Nishitani (Japanese)
Source Material for A Silent Voice
The Manga of A Silent Voice is divided into two parts according to the story, and it has 62 chapters and seven volumes. Unfortunately, the movie covers the entire story of the manga. The film ends similar to the manga.
Since there are no more volumes to be adapted to a manga, this is a negative sign for the sequel.
A Silent Voice –
Sales And Profit
The movie did well during its run in cinemas in Japan and worldwide. One thing to consider here is that the film was competing against the widely acclaimed Makoto Shinkai movie, Your Name.
We can calculate the profit generated by considering the manga sales, the movie's earnings, that is, the Box-Office earnings, and the Blu-Ray and DVD earnings.
A Silent Voice Manga Sales
The manga began printing in the Weekly Shonen Jumps 36-37th combined issue in 2013 and ended on the 51st issue. Seven volumes of the manga were released.
The first volume sold 31,714 copies in its first week of release. It ranked number 19 in the Oricon Manga Chart. And the second volume sold 60,975 copies in its first week, proudly gaining the number 12 spot.
By March 2014, the manga sold 700,000 copies in Japan. In 2015, 131,000 copies were bought by French fans. This number became 85,000 in 2016. As of 2016, 216,000 total copies of the volumes were sold in France.
A Silent Voice Box-Office
The movie premiered in 120 theatres in Japan on September 17, 2016, and it achieved the number 2 rank in the Japanese box office within two days, coming behind Your Name, grossing 128 million yen.
By November 30, 2016, the movie grossed 2.2 billion Yen and retained a number 16 rank in the Nikkei Hit Ranking. During this year, it was the 10th highest-grossing film in Japan.
The movie gained many viewers in China, earning 44.5 million CNY (6.7 million dollars). In the USA and Canada, it grossed 310,407 dollars, while in the UK, the movie made 110,552 dollars. The movie's worldwide box office earnings amount up to 33 million dollars, which is pretty good.
Blu-Ray and DVD sales
The-numbers report that A Silent Voice earned around $1,583,504 from Blu-Ray sales, a considerable number. Moreover, the DVD sales also seem good, with an estimated $31,150 in earnings.
Therefore, the movie performed pretty well, and its sales and profit generation were up to the mark. These are positive signs for the sequel.
A Silent Voice
Popularity
The popularity that a series commands is significant in deciding whether the franchise attains a sequel. It is more important in the case of a movie.
A silent voice anime is so good I cried watching it.#Asilentvoice pic.twitter.com/RTP1iWYOKW

— D.Søt⁷ (@ilymeoow) March 24, 2021
The movie was released on September 17, 2016, and it has been a long time since then. Let see how the popularity of the show has held up in all these years.
We will be looking at A Silent Voice's Google trends, MyAnimeList Ranking, and IMDb ranking, and these details will help give us an idea of where the show lies now in terms of popularity.
Google Trends Results of
A Silent Voice
Looking at the astonishing Google Trends chart, we can see that the movie peaked during May 2017; subsequently, the popularity began to fall; however, it has recently been seeing some growth. In January of this year, the worldwide searches for A Silent Voice were 78% of what it during its peak. This is a good sign.
MyAnimeList Ranking Of A Silent Voice
The movie ranks on 25, with a popularity ranking of number 14, backed by 204,738 members. Being so high in the list among so many anime series is great for the movie. It proudly bears a score of 8.86 on the website.
IMDb Ranking Of A Silent Voice
On IMDb, A Silent voice has received 8.1/10 by 51,293 users, and it hosts a Metacritic review of 78 out of 100. This is a good score.
Therefore, the show's popularity isn't all that big, but it has managed to sustain even after all these years, contriving to secure a great spot on MyAnimeList. Thus, the show's popularity is good and wouldn't hamper the movie's sequel's chances.
Why Isn't There A Silent Voice Sequel?
There hasn't been any announcement on a sequel for the movie, and this is because the film, based on manga, has no more material to use. The first movie has consumed all the story and plot points of the manga.
However, if you are still interested in reading and knowing more about the story, I recommend you check out the manga. It has many extra scenes that weren't adapted into the movie due to time constraints.
In most cases, the anime movies and franchises are adapted based on source material. The purpose of the anime is to promote the source, and since the manga no longer publishes, there is nothing to support through a movie.
Will A Silent Voice (Koe no Katachi) Season 2 Happen?
The chance for a sequel to the movie seems like a far-fetched idea. Ishida and Shoko's story ended on a good note, and fans do not want to spoil it. Moreover, the manga is no longer continuing, and there's nothing available to promote, and the source material has been covered already. The chances for a sequel to the movie thus seem pretty bleak.