How Not to Summon a Demon Lord is a fantasy Japanese anime series. In Japanese, it is 異世界魔王と召喚少女の奴隷魔術. Here on this page, we will discuss on the synopsis, characters of the series, and the premiere. So, let's go through the page.
General Information: How Not to Summon a Demon Lord: Season 2
Yukiya Murasaki has written this Japanese light novel, and Takahiro Tsurusaki has illustrated it. J-Novel Club first publishes the light novels in English. After it, Naoto Fukuda has adapted a manga which has been running since 2015. How Not to Summon a Demon Lord got its license from Seven Seas Entertainment.
Now, a second season is planning to be in the market. Tezuka Productions has announced that it will premiere in 2021.
The Synopsis: How Not to Summon a Demon Lord: Season 2
Here the central theme is the line of reality and virtuality. Takuma Sakamoto is the focus of this anime. He is a hikikomori gamer who is mysteriously deported to the virtual world of his favorite MMORPG, Cross Reverie. There, his appearance is the same as his own but with name, the Demon Lord Diablo.
Diablo has a magic ring with the strength "Magic Reflection. So whenever anyone tries to spell him, the opposite happens. The same happens when two young girls, the pantherian Rem and the elf Shera tries to make Diablo their servent. The spell automatically rebounds, and both of them end up with magical collars stuck on their necks.
As the days pass, Takuma decides to act like his character. He starts to interact with others and uses his skill of Cross Reverie's lore to survive in his new environment. Gradually, traveling with the two young sisters, he tries to find out ways to remove the collar. Not only to banish their slavery, but Diablo tries to solve their issues too.
Characters
The characters of the How Not to Summon a Demon Lord: Season 2 are listed below-
Takuma Sakamoto aka Diablo
Shera L. Greenwood
Rem Galleu
Alicia Crystella
Sylvie
Edelgard
Celestine Baudelaire
Klem
Mei
Emile Bichelberger
Keera L. Greenwood
Chester Ray Galford
Medios
Saddler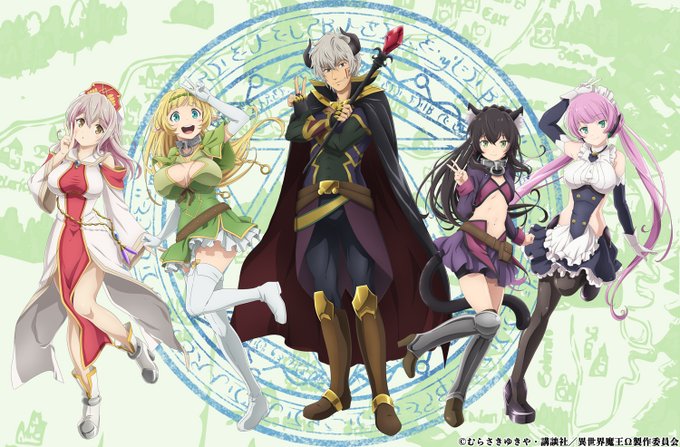 Release Date: How Not to Summon a Demon Lord: Season 2
The season 1, released on July 5, 2018. It consisted of 12 episodes and continued till September 20, 2018. It adapted only a few volumes of the primary material. So there's more! For season 2.
Thus, the recent confirmation of Season 2 is its release date. On the official website of the anime, 'How Not to Summon a Demon Lord,' Season 2 is cataloged to release in 2021. The exact date has not yet confirmed.