Looking for something to binge? Don't worry; we've covered you with the top adult anime on Netflix.
Issues targeted at various age groups can be found in several anime genres and topics. However, in many kid-friendly shows like "Doraemon" and "Pokemon," manga authors and well-known anime artists have continued to create presentations that tackle complex subjects or even contain pornographic imagery over the years. The top Netflix adult anime is listed below.
Thus we have a few recommendations for you if you're looking for an adult content anime that is better suitable for an 18+ audience and has many sexually suggestive scenes. Furthermore, remember that these are the most excellent adult anime available on Netflix; they are not the dirtiest anime.
20. Code Geass: Lelouch Of The Rebellion
Director: Gorō Taniguchi
Writer: Ichirō Ōkouchi
Voiced by: Johnny Yong Bosch, Kate Higgins, Yuri Lowenthal
IMDb Ratings: 8.7/10
Rotten Tomatoes: 100%
The military nation of the Holy Empire of Britannia occupied many significant countries in the year 2010 and strengthened its position as a mighty colonial power. After defeating Japan, it reimagines Area 11 and imprisons its inhabitants. The great empire is unlikely to take things literally, even though there is still a lot of opposition.
Lelouch Lamperouge, a Britannia student, swears to free the oppressed people after receiving the Power of Kings or Geass from an unidentified girl.
The psychological conflict between constructive and destructive forces and devious mind games are hallmarks of military mecha animation. Nonetheless, the show also includes subdued sex scenes and semi-nude scenes that intensify the proceedings' tension.
19. Castlevania
Creator: Kevin Kolde
Writer: Warren Ellis, James Callis, Malcolm McDowell, Graham McTavish, etc
Voiced by: Alejandra Reynoso, Richard Armitage, James Callis, Graham McTavish, etc
IMDb Ratings: 8.3/10
Rotten Tomatoes: 94%
When the most popular streaming service Netflix decided to create an animated series that filled out the backstory, many fans of the Castlevania video game were shocked. As a result, you endure seeing Trevor Belmont fight Dracula.
The monster Count Vlad Dracula epeş declares that all the people of Wallachia would make up for their deaths when his wife is burned at stake for witchcraft. The people of the land are forced to live in fear and despair due to his summoning a demon army to invade.
To counteract this, Dracula's dhampir son Alucard and the wizard Sypha Belnades join monster hunter Trevor Belmont in engaging Dracula's warriors with firearms.
18. Fate/Stay Night: Unlimited Blade works
Director: Takahiro Miura
Writer: Akira Hiyama, Kazuharu Sato, Tatsuki Ichinose
Voiced by: Kana Ueda, Ayako Kawasumi, Junichi Suwabe, Tomokazu Seki, etc
IMDb Ratings: 8/10
Rotten Tomatoes: 50%
Some of the best action sequences in anime can be found in the Fate series, which also has bright animation and clever, imaginative combat choreography. But, this edition's plot requires revision. Although it sounds great, it is only passable and predictable. This does not imply that it is not humorous.
The group has various personalities, making for fascinating interactions and wonderful humour.
Since Shirou is a principal character, he is relatable to fans, and his connection with Rin makes you want to root for him. Overall, the show packs a punch and gets you fired up about the idea.
17. The Seven Deadly Sins
Director: Tensai Okamura
Writer: Shōtarō Suga
Voiced By: Erika Harlacher, Rintaro Nishi, Jun Fukuyama, Tatsuhisa Suzuki, etc
IMDb Ratings: 7.9/10
Rotten Tomatoes: 80%
The Seven Deadly Sins is a well-made shonen programme with a large audience and thrilling combat. It features a motley gang of eccentric pals on their quest to find someone who can bring stability to the realm, delving into well-known themes and tropes common in the shonen-adventure subgenre.
Despite having a simple and predictable plot, the show succeeds in terms of characters. They are intricate, hilarious, and endearing, and their histories and goals give the story much life.
16. Kill La Kill
Director: Hiroyuki Imaishi
Writer: Kazuki Nakashima
Voiced by: Erica Mendez, Carrie Keranen, Steve Cannon, Kaiji Tang, Christine Marie Cabanos
IMDb Ratings: 7.9/10
Rotten Tomatoes: 86%
Studio Trigger's "Kill la Kill" is a mad journey, yet its intensity is its allure and possible downside. Kill la Kill is unique in terms of both concept and anime, and it positively embraces female characters, which is crucial in anime.
On the contrary, the outrageous antics of the character designs might even be offensive. Although it may not be the most logical series, it is bold and loud and offers an adventure worth watching.
15. Durarara!!
Director: Takahiro Omori
Writer: Noboru Takagi
Voiced by: Darrel Guilbeau, Bryce Papenbrook, Kari Wahlgren, Michelle Ruff, Johnny Yong Bosch
IMDb Ratings: 7.8/10
Durarara!! It is all about the various moving energies that make up the town of Ikebukuro and how they interact and collide. One such group is The Dollars, whose members wish to stay unnamed. There is also Celty Sturluson, a dullahan out for her head.
Although the character designs are intricate and distinctive, it is challenging to connect with any one of the large groups due to the constant swapping. Also, viewers can quickly feel lost due to the continuous changes in viewpoint.
You have even more material to handle and sort through when you include flashbacks, even though it can occasionally be frustrating and challenging, Durarara! You won't regret watching this delightful film.
14. AJIN: Demi-Human
Director: Hiroyuki Seshita (Chief), Hiroaki Andō
Writer: Hiroshi Seko
Voiced by: Mamoru Miyano, Yoshimasa Hosoya, Jun Fukuyama
IMDb Ratings: 7.6/10
Rotten Tomatoes: 82%
Ajin: Demi Human's grim story is worth waiting for, even though CGI anime may be a better kind of animation. The main character, Kei, discovers that he is an Ajin, an oppressed race regularly used in experiments and that he is an everlasting demi-human.
Although this anime's themes and character development are similar to others, its visual style is unquestionably distinctive.
Especially with the monstrous, fright-inducing Black Ghosts. The primary antagonist, Sato's confrontation with the SWAT team at Grant Pharmaceuticals, is a spectacular sequence that rapidly raises him to the status of all the most ruthless villains in recent memory.
13. Devilman Crybaby
Director: Masaaki Yuasa
Writer: Ichirō Ōkouchi
Voiced by: Kouki Uchiyama, Ayumu Murase, Megumi Han, Ami Koshimizu, Atsuko Tanaka
IMDb Ratings: 7.6/10
Rotten Tomatoes: 89%
Due to its brutality and nastiness, the recent Netflix animation "Devilman Crybaby" has gained much attention. The story revolves around a terrified youngster who changes into a demonic badass in response to a demon's attempt to possess him. He transforms the "Devilman Crybaby" by bringing in a brutal monster and a tender child's soul.
In addition to having a reasonably intriguing concept, "Devilman Crybaby" is an excellent illustration of how specific animation lacks a sense of humour. You shouldn't miss this anime if you enjoy watching shows with intense action and violent sex scenes.
12. Nura: Rise Of The Yokai Clan
Director: Junji Nishimura
Writer: Natsuko Takahashi
Voiced by: Michael McConnohie, Tony Oliver, Jamieson Price, Patrick Seitz, etc
IMDb Ratings: 7.5/10
Yokai Clan is intended for adults. But adult anime viewers who aren't especially interested in standard shonen may easily enjoy the nuanced politics of the yokai world.
Although the reluctant protagonist is hardly a novel character, anime protagonists who might want to be less than superstars in their tales are consistently fascinating. Although the story unfolds more slowly than dark fantasy anime, the humour, action sequences, and character interactions keep the reader engaged.
11. Kakegurui
Director: Yuichiro Hayashi, Kiyoshi Matsuda
Writer: Yasuko Kobayashi
Voiced by: Minami Hamabe, Aoi Morikawa, Mahiro Takasugi, Taishi Nakagawa, etc
IMDb Ratings: 7.2/10
Rotten Tomatoes: 75%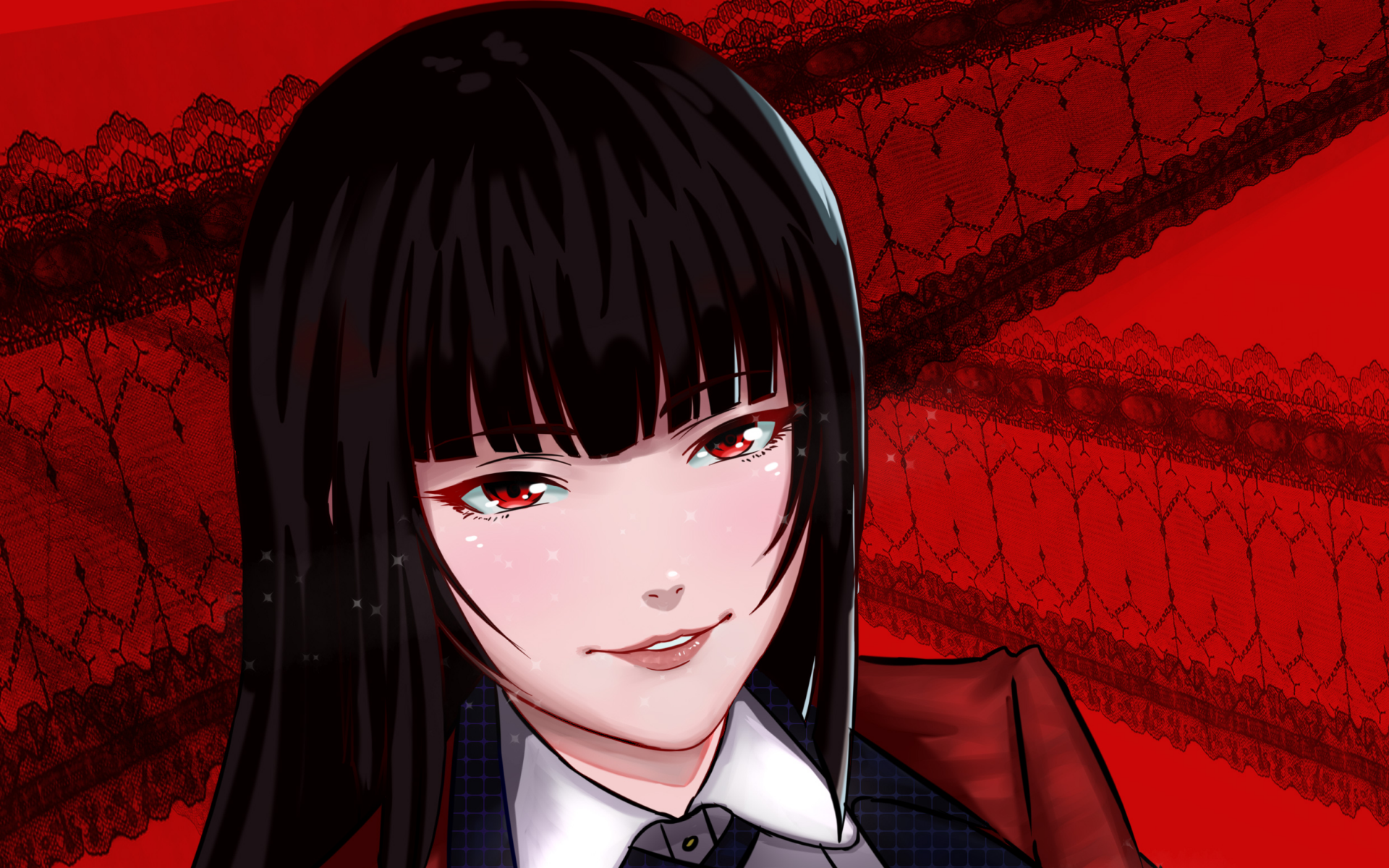 The best anime programme about the subtle nuances of gambling is Kakegurui.
It is centred on the Hyakkaou Private Academy, a renowned school whose pupils follow a regular daily instruction schedule.
Nevertheless, once night falls and the sun sets, the school's hallways become dangerous gambling dens. The whole thing aims to prepare children for the outside world, where life is a constant gamble.
Yumeko Jabami, a recent transfer student, fundamentally alters the game while most young audiences are motivated to win at these gambling events to increase their influence.
Yumeko is gambling-obsessed, and because of this, she discovers all of the dishonest administrators at the school who have taken control of the game regulations.
In the adult animation series "Kakegurui," the main character's gambling addiction is depicted by combining nudity with Ecchi. She is so in love with it that she experiences orgasms. Several original web animation programmes, especially harem ones, incorporate fanservice as a selling point.
Nonetheless, "Kakegurui" is a superb illustration of how nudity may be used to appeal to a more youthful adult male audience and deliver a crucial message.
10. The Witcher: Nightmare of the Wolf
Director: Kwang Il Han
Writer: Beau DeMayo
Voiced by: Theo James, Mary McDonnell, Lara Pulver, Graham McTavish, etc
IMDb Ratings: 7.2/10
Rotten Tomatoes: 100%
A dark hidden animation movie called "The Witcher: Nightmare of the Wolf" was inspired by Andrzej Sapkowski's fantastical novel. Vesemir, a witcher who kills demons for cash and has grown up knowing the hardships of extreme poverty, is the novel's protagonist.
The character is forced to confront his feelings and worries when a new threat arises, although he generally seems unbeatable. Conversely, the action-packed movie includes a good plot, sex scenes, and other fan service moments.
9. Gantz:O
Director: Yasushi Kawamura, Keiichi Sato
Writer: Tsutomu Kuroiwa
Voiced by: Daisuke Ono, Mao Ichimichi, Tomohiro Kaku, Saori Hayami
IMDb Ratings: 7.1/10
Rotten Tomatoes: 67%
Gantz:O portrays an action-packed afterlife where the deceased fight monsters rather than rest peacefully. This short highlights several of the most exciting aspects of the novel's setting in blatantly obvious CGI, whether you've read Gantz before or haven't.
But instead of emphasizing spectacular combat and dramatic deaths, the movie needs more material. Because of this, it could be more thought-provoking, and devoted manga watchers may be dissatisfied with the topic changes.
Yet after a long day, you can watch this movie to satisfy your yearning for a badass main character who wields a weapon and kills aliens with women.
8. B: The Beginning
Director: Kazuto Nakazawa, Itsuro Kawasaki
Writer: Katsuya Ishida, Kazuto Nakazawa
Voiced by: Kyle McCarley, Patrick Seitz, Johnny Yong Bosch, Jalen K. Cassell, etc
IMDb Ratings: 7.1/10
Rotten Tomatoes: 50%
The action takes place in the archipelago country of Cremona. It occurs at a time when technology is advancing quickly. Nonetheless, violence and instability were increasing in Cremona, mainly due to the threat posed by the serial killer known as Killer B.
The primary protagonists in this top anime series are Koku and Keith. As Koku works in the violin business, he can construct new instruments and repair old ones even though he cannot tune the violin. Keith makes a great investigator as well.
The story is intriguing and will keep you interested. The graphics and animation are superb, and the tales are fascinating.
This is the best anime on Netflix, and if you like crime mystery thriller anime, you'll adore it because one of the main characters is a great investigator.
7. K Project
Director: Shingo Suzuki, Hiromichi Kanazawa, Susumu Kudō
Writer: Tatsuki Miyazawa
Voiced by: Patrick Seitz, Daisuke Ono, Kenjiro Tsuda, Tomokazu Sugita, etc
IMDb Ratings: 7/10
The animated detective series from K Project has more intriguing colour contrasts. The multitude of characters and their group politics move the plot forward, and their confrontations are made more interesting by including their unique abilities.
Shiro and Kuro's interactions are lovely, if somewhat clichéd; after a challenging beginning, the two develop into devoted friends. With so many different personalities, though, some don't receive the respect they merit. The few female characters are limited to a few scenes focusing more on their physical appearance than their skills.
6. Sword Art Online II
Director: Tomohiko Itō
Writer: Reki Kawahara
Voiced by: Béatrice Déraciné Collins
IMDb Ratings: 6.9/10
Rotten Tomatoes: 100%
The sequel to Sword Art Online is far worse since Kirito is incredibly powerful despite having a very uninteresting personality. Yet, it's impossible to ignore how exciting the fighting in SAO is and how brilliant Kirito is in every world he appears in.
This franchise excels at combat and uses the tremendous virtual environments MMORPGs created while providing an intriguing murder investigation. If you enjoy Asuna's fast-paced persona, the show's second season features an arc with her at the centre, offering a much-needed tempo adjustment. Nobody wanted to see her again since she was imprisoned in a tower.
5. Expelled From Paradise
Director: Seiji Mizushima
Writer: Gen Urobuchi
Voiced by: Angela Balzac, Frontier Setter, Veronica Kulikova, etc
IMDb Ratings: 6.7/10
Rotten Tomatoes: 59%
Given the complex and vibrant aesthetics, this film uses CGI rather than typical 2D anime, which can be a turnoff or a welcome change. Expulsion from Paradise is frequent, but it won't be a profound or challenging intellectual experience.
All you can hope for is massive action with more fantastic robotic weapons. The banter between Angela and Dingo is funny, and it's heartwarming—if a little monotonous—to watch them become closer due to their divergent viewpoints.
4. Baki
Director: Yuji Asada
Writer: Yoshihisa Araki
Voiced by: Tôru Furuya, Kirk Thornton, Troy Baker, Nobunaga Shimazaki, etc
IMDb Ratings: 6.7/10
Rotten Tomatoes: 67%
The protagonist of Baki, a typical shounen manga, is a young boy named Baki Hanma who aspires to be the world's greatest fighter. Nevertheless, because his father, Yujiro Hanma, now has the name, he must put in more effort to achieve that goal.
In this episode, Baki works tirelessly to improve himself and become the best warrior in the universe. But, some unexpected guests who want to test his abilities are attracted to him because of his popularity. These five heinous criminals have exhausted their energies because no one can stop them. Thus, they are bored.
So they show up to battle Baki. Get ready for an animated action movie featuring Baki and his friends taking on the most damaging criminals on the planet.
3. High-Rise Invasion
Director: Masahiro Takata
Writer: Touko Machida
Voiced by: Yuri Honjô, Mayuko Nise, Yayoi Kusakabe, etc
IMDb Ratings: 6.5/10
Rotten Tomatoes: 70%
After witnessing a murder in the presence of an unknown attacker named Yuri Honjou, a teenager manages to flee. She rapidly realizes that she is trapped and that the rooftop is the only place she can feel secure. Tall structures surround her; she knows her brother is nearby and might need her help.
To get to him, the murderers must fight off the masked assassins shooting innocent bystanders to sate their obscene appetites. There are several intimate scenes and sexual content in this filthiest anime on Netflix.
2. Japan Sinks: 2020
Director: Masaaki Yuasa (chief), Ho Pyeon-gang (series)
Writer: Toshio Yoshitaka
Voiced by: Reina Ueda, Tomo Muranaka, Yûko Sasaki, Masaki Terasoma, Hiroyuki Yoshino
IMDb Ratings: 6.4/10
Rotten Tomatoes: 72%
The Mutou family lives a short and enjoyable existence in the working-class outskirts of Tokyo. The ominous earthquake strikes the entire Japanese archipelago and sets into motion a series of events that could ultimately lead to the extinction of culture in the East Asian nation. However, they needed to prepare for their relationship issues.
As Japan starts to crumble, every decision becomes crucial as the displaced population runs for their lives. The near-apocalyptic tale is captivating but includes several sexually explicit sequences that mature anime viewers should only view.
1. Yasuke
Director: LeSean Thomas; Takeru Satō
Writer: Satoshi Okunishi
Voiced by: LaKeith Stanfield, Takehiro Hira, Maya Tanida, Ming-Na Wen, Gwendoline Yeo
IMDb Ratings: 6.2/10
Rotten Tomatoes: 93%
Many television shows can rival "Yasuke" in terms of imaginative plots and action-packed moments. The historical fiction drama, which is set in a parallel universe and is evocative of classic anime programmes like "Samurai Champloo," concentrates on the title character, the lone black samurai fighter in the region of 16th-century feudal Japan.
Keeping with its accurate era portrayal, the series does not shy away from a completely nude scene.